I was given an advance copy of Dandelions on the Road
by Brooke Williams with the understanding that I would do a character review when I finished it. I really enjoy reading Brooke's books because her characters are so much like normal folk. They are flawed, but yet are really good people. This book was a follow-up to Accept This Dandelion
. The main character, Eva, was a contestant on a dating reality show called "Accept This Dandelion." Eva didn't win, but the producers decided to do a sequel. On the new show, Eva is the bachelorette with twelve men trying hard to become her next love. Brian, a TV newscaster, was asked to host the show. It was difficult for him, because he had feelings for Eva himself. I chose to interview Brian instead of Eva. The interview follows:
Hi Brian,
Thank you for joining me for this interview. I really enjoyed your work as host of "Dandelions on the Road". Although I have not seen you in your other role, I hear you are a very professional and charismatic news reporter. I absolutely loved the way Dandelions on the Road ended, but instead of giving that away to those who haven't yet read it, I have a few other questions.
It's so good to be here, thanks for having me!
I often saw a twinkle in your eyes when you were interviewing Eva. When did you notice that you had fallen for her?
You've seen her, right? She's drop dead gorgeous. No man in his right mind wouldn't fall for her. But forget about looks, she has a heart of gold and a personality to match. She's the whole package. When I interviewed her for the TV new morning show, it was hard to get a coherent thought out. I was so taken by her beauty. But it was when I started to learn what she was all about that I really fell hard.
How difficult was it for you to watch her holding hands with or kissing one of the contestants?
I was jealous. There's no better word to describe it. Downright jealous and a half. It was torment. Not only because she was finding love with other people, but also because I knew I had my shot with her and I blew it. I'd known her for a year before the show came up. I could have asked out on many different occasions and I didn't.
Did you avoid the trip to Kate's ranch because of Eva or was it really to avoid bringing up your feelings about Kate?
It was all Eva. Kate and I have a history. That's no secret. She was one of my closest friends and for a long time, I considered her the one that got away. But there was space between my relationship with Kate and I realized she was right in the end. We weren't right for one another. I was over Kate, but I was very much NOT over Eva at the time!
How did you manage to pull off that amazing feat with the animals and the video so quickly?
TV magic! And a little help from Eva's co-workers. When I told them what I wanted to do, they were all on board. They didn't know if Eva and I would end up together…and neither did I…but they wanted to give her the best shot at love possible and I guess they thought helping me would help the animals too, in the long run!
What was your reaction when you saw Eva alone on the stage when Mike sent you out there?
It was hard to breathe. She looked so alone and so tiny standing there all alone. I couldn't get to her fast enough.
How many of the animals that you fostered for the video do you see yourself keeping? Which is your favorite?
All of them! Ha! Eva was right when she said it's hard not to think of them as your own once they live with you. I've held myself back on adopting because I still have my old cat Flash. When she passes, I'll probably keep on and all! But for now, she is the only cat that gets to call my house her permanent home. That being said, it's heart wrenching when some of the animals find permanent homes. Though I'm happy for them too.
Dandelions on the Road
By Brooke Williams
Release Date: November 5, 2015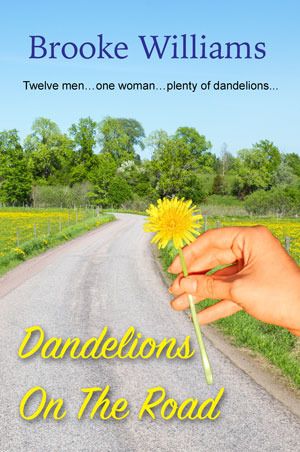 Order HERE
Join the Nov. 5th Release Day Party on Facebook HERE
Enjoy giveaways and fun chats!
Twelve men…one woman…plenty of dandelions. Eva Merida has her life in order. She loves her job at the Furry Friends Rescue League and has a loving, supportive family. But she's still missing that one special person to stand by her side. When she comes in third place on the local TV version of "The Bachelor," entitled Accept this Dandelion, she nearly loses all hope for romance. Fortunately, the TV station decides to do a second season of the dating show…and they name Eva as the Bachelorette! With a plethora of dating mishaps recorded for TV, Eva finds herself falling for several men at once…including the show's host. Will she find love at last or simply embarrass herself in front of the entire city?
Add "Dandelions on the Road" to your Goodreads list HERE
About the Author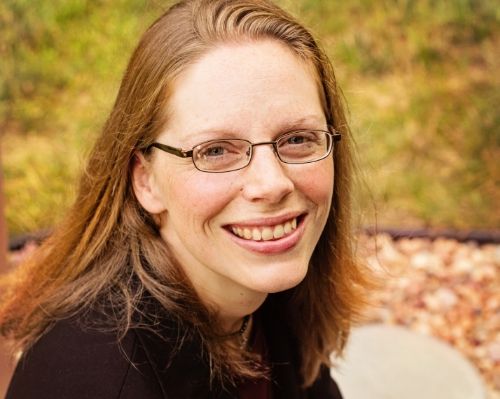 Brooke Williams writes in a sleep-deprived state while her daughters nap. Her romantic comedy is best read in the same state. Brooke has twelve years of radio in her background, both behind the scenes and on the air. She was also a television traffic reporter for a short time despite the fact that she could care less about hair and make-up. Today, Brooke stays at home with her daughters and works as a freelance writer for a variety of companies. When she isn't working for paying clients, she makes things up, which results in books like "Dandelions on the Road."  Brooke is also the author of " Mamarazzi," "Accept this Dandelion," "Wrong Place, Right Time," "Someone Always Loved You," and "Beyond the Bars." She even has children's books on the market, such as "Shower in the Rain" and looks forward to releasing "Baby Sheep Gets a Haircut" in June 2016 with Wee Creek Press. Brooke and her husband Sean have been married since 2002 and have two beautiful daughters, Kaelyn (6) and Sadie (2).
Connect with Brooke:
Note from the Author on the book's inspiration:
I wrote "Accept this Dandelion" in a silly, sleep-deprived mood and thought that was it. But the characters in the book kept coming back to me, begging me to continue the story. Eventually, I listened, turned the tables, put a woman in charge, and created "Dandelions on the Road." I got so much joy from writing it, I'm glad I did! Now I just hope those reading it get even half the pleasure I got from writing it.
???
She has two more completed novels entitled:
After the Final Dandelion
and
The Leftover
Watch her website for details on upcoming releases….